I'm happy that everyone's posting photos in the trip reports, but I have a simple request. When you're editing your photos and saving them, please don't save them at the highest quality level. There are many image editors out there, and I can't offer instructions on all of them, but when you save the image as a jpeg, it usually asks what you want for a quality level. This might be "good/better/best", or maybe a number from 1-10. It might look similar to this: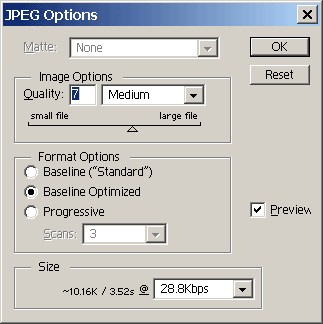 The visual difference between a medium quality and a high quality saved image is undetectable without close pixel-by-pixel inspection, but the file size difference is substantial. Ron typically saves his images at 1000px wide, but the size is only 50-70k, on average. (And if you've seen Ron's photos, you know they're not lacking in quality.) But I see a lot of smaller photos posted by people where the size is upwards of 200k per image. For threads with a lot of photos, this can start to take a good deal of time for those with less-than-optimal connection speeds.
Thanks for your help.