North River
Location:
Hanover/Norwell/Marshfield/Scituate
Type:
Primarily salt water tidal river, fed by several freshwater sources
Mostly flatwater, with occasional rapids at specific tides.
Tide offset:
The tide at various points along the river lags behind the schedule posted for the river mouth.


| | | |
| --- | --- | --- |
| Damon's Point | | Add 20 minutes |
| Union Street | | Add 1 - 1.5 hours |
| Couch Beach | | Add 2 hours |
| Hanover launch | | Add 3 - 3.5 hours |

Thanks to North and South River Watershed Association for this info.

The furthest inland navigable point on the North River is at the Hanover launch. Directions: Pass Bldg #19 as you travel north on Rt 53. Left at the lights (West Elm St.), bear left to stay on W. Elm, left on Indian Head Dr. (just before crossing river), parking at end of road on right. Technically, this is the Indian Head River at this point. About a half-mile downstream, it joins with Herring Brook and becomes the North River. Towards high tide, you can navigate quite a way up Herring brook.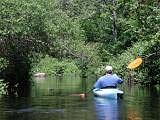 During high tide, you can navigate a short distance upstream. This is a rather interesting little trip - a mini-Amazon of sorts with lots of low hanging branches and little sunlight penetrating.
About 1.5 miles downstream from the Hanover launch, you will pass under the Rt. 53 bridge. Soon after that, you will pass under the Washington Street bridge. Caution: Once you get a couple hours past high tide, the water rushing through this area can get treacherous.
Another mile past this area is a small resting spot on the left with a historic marker of a former shipyard. (Several markers such as this can be found along the river.)
Very soon after this is the Pembroke launch on the right. This is extremely difficult to locate by boat (and not a whole lot easier by car, either). Driving directions: Rt 53 south, left onto Rt 139, left ¼ mile down onto Brick Kiln Lane. Follow it until it becomes a dirt road. Watch for a small dirt drive on the right. (Limited parking here...)
From this point on, the river winds back and forth through marshland. A mile or so up, you pass under the Rt. 3 bridge, and less than a mile further, you will come to Blueberry Island and Couch Beach on your right.
Blueberry Island isn't actually an island, but is a small peninsula. There is a small landing beach, a fireplace and room for a few tents.

Couch Beach is just a few hundred yards beyond Blueberry Island. It has an expansive sandy beach, a huge wooded area with minimal undergrowth, at least one picnic table and trash barrel, and a few fireplaces. Overnight camping must first be cleared through Marshfield's Dept. of Public Works.
About a mile further down, you will pass Corn Hill Lane on the right. A launch can actually be made from this point, but there is no parking, and no beach. You'd have to somehow launch from the muddy marshgrass river edge - tricky at best.
Another mile down is the Union Street canoe launch on the right, immediately before the Union Street Bridge. There is plenty of parking here, a picnic table and trash barrel. Driving directions: From exit #12 off Rt. 3, go east on Rt 139. Take a left at the first set of lights. This is Oak Street for a few feet until you enter Marshfield, where it becomes Union Street. Follow Union Street approx 3 - 3.5 miles till you get to the river. The entrance to the launch is shortly before the river and isn't easy to find. Look for a small white post.
About a mile past Union Street, Cove Brook branches off on the right. [See trip report.] As is typical with all tidal creeks, this is very windy and a fairly gentle side trip that will take you within a stone's throw from Highland Street in North Marshfield. You probably could make it all the way to the road itself, but for the heavy overgrowth. Cove Brook is approximately 1.5 miles long (paddling).
A high level of caution should be heeded before paddling further down the river. Near high tide, the water can be fairly calm with moderate currents. But as you get further toward low tide, the currents can become quite strong.
Specific locations to be cautious of are: passing under the Union Street bridge, crossing Damon's Point, and especially nearing the mouth of the river where it joins the South River and empties into the sea. Also, be wary of power boats travelling in this area.
There is parking available at Damon's point for launching, but a Marshfield beach sticker is required.
Near the mouth of the river, Herring Brook splits off to the north and meanders up near the Driftway in Scituate. There is a popular boat launch there with plenty of parking (no overnight parking). From here, you can paddle out to the river and visit The Spit - a large peninsula of beach that juts into the river from the northern bank. During the summer, this is a very popular beach spot for the local boating community.
Ok, that's all very interesting and a whole lot of info, but we just want to do a little recreational paddling. Any suggestions?
Sure.
For the gentlest paddle with the absolute minimum of risk, put in at the Hanover launch a couple hours after ocean high tide. From there, you can paddle downstream, past the Route 53 bridge and up to the Washington Street Bridge (scenic stone arch bridge). Around this time, the water should be flowing under the bridge and may prevent you from travelling further.
The current is negligible on this entire trip, and it's extremely unlikely you'll encounter any power boats. The total trip is only 1.5 miles each way.
About half way between the Hanover launch and the Washington Street bridge, the river is joined by Herring Brook, which heads up toward Pembroke. Little to see, but it's some additional flatwater paddling.
Or...
Put in at the Marshfield launch approximately 1 hour after ocean high tide. The current will be heading gently inward, so follow it (away from the Union Street Bridge and the ocean). Paddle as far as you'd like. About an hour upstream is Couch Beach, which is a nice stopping (and possibly turnaround) point.
At some point, the current will switch, but it's a very slow process, and in any case, you'll have no problem paddling against it if you need to.
This area is flatwater with occasional ripples from breezes. You may encounter powerboats here, but aside from the occasional young cowboy, they will all be travelling slowly and cautiously.
Or...
Put in at the Driftway launch and paddle to where it exits into the North River. You can stop at the spit (huge sand bar) or turn right and head upstream. This area tends to be busy with powerboats, so you have to keep an eye out for them, as well as some chop that they might kick up.