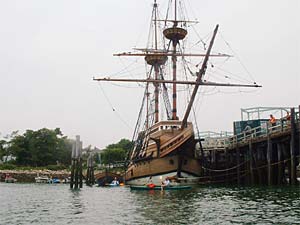 Plymouth Harbor
July 12th 2004
By Chip Hebert
K1 - Chip Hebert, Pat Traynor, Joe Charpentier
We launched from Nelson Beach an hour or so after high tide and headed south toward the harbor by way of the jetty bridge. We paddled around the inner harbor a bit enjoying the rolling wakes from some of the motorized vessels.
Avoiding the channel and other larger craft as much as possible, we headed over to the Mayflower and Plymouth Rock. I must say it is quite a sight to see these historic sites from this new perspective. People were looking and pointing at us as we nestled up close to the Mayflower. I guess the Mayflower didn't make the cut as a potential target by Homeland Security. I was expecting to be shooed away by some security type in a pilgrim outfit.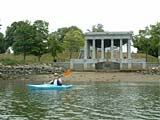 We couldn't get closer than 50-60 feet to Plymouth Rock due to the receding tide. No big deal. As the locals say, "It's only a rock".
The marina at the other end of the inner harbor had some very nice boats to look at. Cabin Cruisers, Sailboats, etc. Impressive sight.
We headed further south towards Stephens Field. We passed Stephens Field and decided to paddle over to the Long Beach spit. It took a while as the wind and waves picked up a bit. Sure looked a lot closer than it was. We made it and stretch our legs a bit and had a snack before heading back.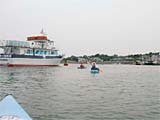 Heading back as the tide continued to go out we saw a few sandbars appearing in our path and we were paddling in 1-2 feet of water. We paddled back to the other side of the jetty and just floated around for a while watching the birds walk around on the sand bars and the boats returning to the harbor in the deep channel by long beach.
Overall, a very nice day with some interesting sights. Next time, I would go out before high tide and try to get back at peak. The 200 yard walk to the car carrying the boats was a pain.