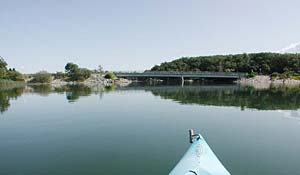 Weir River Estuary
October 1st 2004
By Pat Traynor
Photo gallery
Satellite image
K1 - Pat Traynor, Bea Ellis
I scouted out this location by car a week or two ago. At that time, it seemed a little longer than it actually is. But it's a nice little ride right in the middle of coastal South Shore. Also, you can't beat the putin. This was Bea's first trip in her new yak, and she was very happy with its performance. Well, actually she'd rented it recently, so there were no huge surprises.
We launched a little before high tide. There is a dock right there at Steamboat Wharf Marina, with ample parking right next to it. So it's was one of the easiest canoe/kayak putins anywhere. Bea quickly mastered the art of getting into a yak from a dock and we were on our way.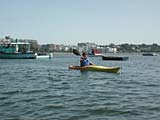 The water was surprisingly calm for the middle of a sunny day. And with the stormy weather pattern that we'd been in, and recently departed Hurricane Jeanne, I was expecting a little more chop. But it was a fairly easy paddle. We headed straight out into the bay, passing many loons and egrets perched on whatever was available - buoys, rocks and docks.
World's End sprawled out ahead of us - circumnavigating it will be a good ride for another day. We went to the left and through "The Narrows". Some documentation I found warned that this could be treacherous with fast currents, but at this point in the tide phase, the water was barely moving.
There is a small tributary that heads south before you reach the George Washington Bridge. We followed this down for a short distance before it was crossed by Rockland Street. I'd hoped that we'd be able to pass under the bridge, but the tide was sufficiently high that it was barely a foot over the top of my boat. If I had a longer boat and could slide myself completely inside of it, I might have given it a try, but there was no way today.
We headed back and continued up the main section of the Weir River. The water was amazingly calm — more what you'd expect on a lake at sunrise. We passed under the Geo Washington Bridge and waved to a couple of people fishing from up there.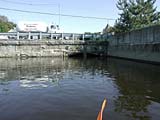 When I'd originally scouted the area, it was at low tide, and it appeared to be a rather winding river. But at high tide, it had turned into a huge irregularly-shaped lake. Still fairly pretty, though.
Shortly, we reached the Rt. 228 crossing, and the end of the line for us. At least from this side, the portage across didn't look anywhere near as intimidating as it did when I'd last seen it. I'll have to see what the other side looks like at high tide sometime. The water was barely 8" from the passageway going under the bridge. I couldn't even get my head low enough to look under it. Of course, it was all academic, since the other side is blocked.
And we headed back. We passed a guy kayaking with his large yellow lab in the boat. He said that the dog won't let him go out without him. Sometime I'd like to see if I can get one of my dogs to travel with me, but I sort of doubt I'll have the same passive cooperation.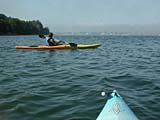 As we were returning into the outer estuary, passing World's End on our left, an unusual and ominous fog was approaching from the north. Much of it was very brown in color, and it was like kayaking through downtown Los Angeles. Further to the left, it shrouded much of the coast, and only a couple of radio towers stuck out of the top. I imagine that this is what it might look like if Mordor had some coastal bedroom-community suburbs.
The breeze had picked up and we had a little chop to paddle through on the way back. Actually, a little refreshing to have the breeze and the spray. Again, no problems with the dock and we headed home.
Not the longest trip in the area, but a nice paddle. Next time, I might head out toward World's End and Hingham Harbor.