Neponset River - Milton to Canton up and back
June 23, 2005
By Chip Hebert
K1 - Chip Hebert, Pat Traynor, Bea Ellis, Ron Wiik
Click on any image for an enlargement.
The plan was to meet at a park on Brush Hill Rd in Milton at 4:45. I got there about 5 minutes early and saw Ron was already there. Ron was a late addition to the trip. He decided to skip out of work early, pick up his yak and go. He has the bug bad. As I start unloading my gear I notice Ron is snoozing in his car. A pre-paddle nap sounded pretty good. Pat and Bea arrived shortly after and the commotion woke Ron up.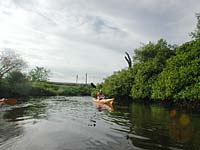 The launch was a little rough. It was very rocky and right at a bridge where the current was very strong. We all made it and were on our way. The river was well wooded and lined with thick brush. Very Amazon like. (Not that I have seen the Amazon). Because the vegetation was so thick, the river looked the same as we passed each bend. I bet in the fall, it would be much nicer.
Our first contact with wildlife came in the form of a guy in a motorized rowboat with a fishing net puttering by. It was a very surreal sight. I started hearing banjos in my head. Strange. A bit later, we saw this big white thing flying across the river. It took a bit to identify it as a white heron. Just as we figured out what it was, 3 more flew out of the trees. It was a pretty cool sight, probably the highlight of the trip. Up to that point, Ron's nap was the highlight.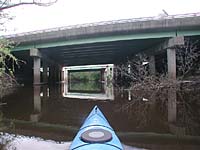 We paddled alongside the commuter rail tracks for a while and passed under a few bridges, including rte.128. I swear the trains were right behind bearing down on our collective backsides. We seemed to be making pretty good time so decided to try to get to rte 95 and the other launch. I swore it was just past the next bend. (5 or 6 times) I really need to remember to bring my gps with me. It would have help a great deal on this trip.
We saw more wildlife along the way. A great blue heron, a couple for beavers or other aquatic mammal and lots of other different birds. We finally gave up on the idea of reaching Rte.95 and decided to turn back after a quick break. Going back with the current made for a much faster return which was helpful because we pushed the timeframe trying to find Rte 95. We saw the white herons again on the way back. They must have been a family or a group of renegade teen herons waiting to poop on us. We made back before dark and emptied our boats of mosquito carcasses and went home.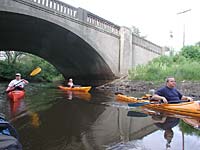 Any time on the water is time well spent, especially when shared with good people. (next time I will go with good people. LOL) This trip would be nicer in the fall with the foliage or less density. Two hours would have been a better duration as well. I had a good time but won't rush back there. We have to try them all though.