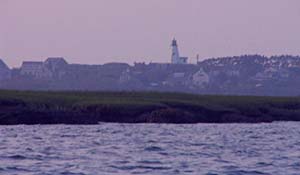 A Sunrise Paddle - Duxbury, Massachusetts
June 26, 2005
By Steven Roberts
K1 - Todd Prentice, Steven Roberts
Images by Steven Roberts
Click on any image for an enlargement.
When I announced on the Wild Turkey Paddlers Forum that I was planning a 5:00am sunrise paddle on Duxbury Bay, I expected people to just politely ignore my post. I was pleasantly surprised when Todd replied that he wanted to join me. We met at Powder Point at 4:45 and I soon learned that this was the second day in a row that Todd had been there at this early hour.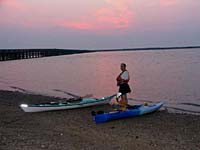 Apparently, he misread my post and got the days mixed up. But, it sounds like he got a nice solo paddle in. As we loaded our gear, the sky began lighting up with pastel shades of purple and pink.
The wind was out of the Southwest, so it wasn't until we passed beyond Powder Point that we experienced the 1-2 foot chop being created by the significant fetch that started at the other end of the bay. We discussed the condtions and decided that we both felt comfortable with a heading of Saquish Village.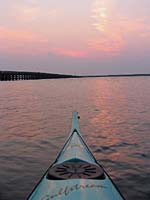 We determined that the best approach was to cross over to the Gurnet, and then follow it across. About half-way down the Gurnet, I looked over at the rising sun and decided that the scene was a must have picture. Unfortunately, taking low-light photos while bobbing up and down in a kayak was not conducive to a good picture, so we decided to beach for a few minutes. Either I'm getting larger or my yak is shrinking, because I've noticed that getting in and out of my boat seems harder than it was before I took my two year hiatus. Anyway, in the minor surf, I couldn't get out of the cockpit fast enough and wound up having to dump out nearly 4 gallons of water.
Todd patiently waited while I took my photos and then we were back in our boats. We cut through the small opening at "the Pines", and we were on the leeward side of Clark Island. Here the chop was significantly reduced. Unfortunately, there is no ideal landing spot close to Saquish and, due to the impending low tide, we didn't have time to work our way up to the beach at Saquish Neck. So, we reversed direction and headed back to Powder Point. By now the wind had died down and the waves were smaller, so it was decided that we would make a direct crossing of the Bay. We made it back without event, while enjoying a conversation on a variety of topics along the way.
Once back at Powder Point I noticed a familiar truck. Apparently, the elusive Jim Fitzgerald was on the water, somewhere (probably fishing out of his beautiful homemade Chessy). Once our gear was loaded back on the vehicles, we went for coffee and not-so-fat-free pastries at French Memories. There is nothing like sitting outside, enjoying your breakfast on the shaded patio, on a hot summer morning.