Yukatan, Mexico
1/18/2008 - 1/27/2008
By Ron Wiik
Paddlers: Bea, Carolyn, Dennis, Doug, Karen, Linda, Maureen, Ned, Susan, Ron
Guide: Brian
Ned and Doug put together this trip with Living Adventure Inc. to Rancho Caphe Ha (Two Waters), in the Sian Ka'an Bioreserve, south of Tulum, Mexico. Four of us went down on Friday and the other six came down on Saturday. We met up with Brian our guide and Gail the owner of Living Adventure in Playa Del Carmen at the Posada Mariposa (1). This was your typical hotel as can be seen in this shot in the lobby (2).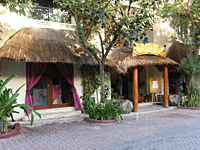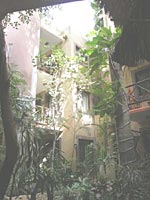 Sunday morning we loaded up the van and headed south to Tulum (3). After about a one-hour drive we arrived in downtown Tulum where we picked up some essentials (half a dozen chickens and liquid refreshments). This turned out to be an important stopping point every time we were out with the van. From Tulum it was another hour south, though most of this portion of the trip was at 10 mph over a narrow dirt road.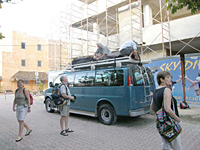 Caphe Ha turned out to be a collection of four buildings. There was a building for the caretaker, a one-room shack for a kitchen with inside and outside seating (4), and 2 two-room huts for sleeping (5). Doug and Carolyn got stuck in tents (6).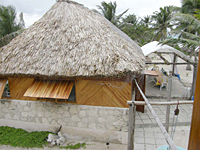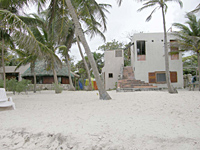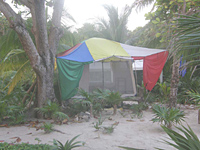 The weather was so bad we had to eat all of our meals outside except for one and we constantly needed to lie down on these ropes to hold the palms up (7),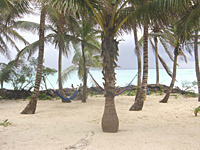 The fleet of kayaks was colorful as usual (8) and the launch site in the lagoon across the street was well hidden (9). The paddle on Monday was so strenuous that it took some serious rest to recover for the return trip (10). We were being watched at the stop from the opposite side (11 & 12) and from above (13).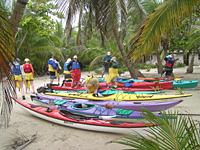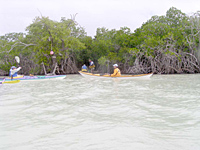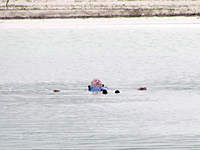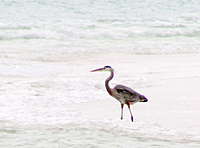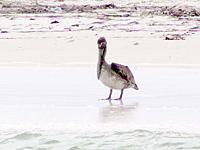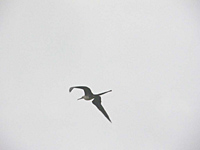 Tuesday's paddle was to the south into the mangroves (14) to check out the birds (15 & 16). Then at sunset, we headed out to Bird Island (17). This was a small island with a small population during the day, but at sundown, hundreds of birds flock in from all directions. (18, 19 & 20).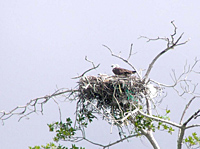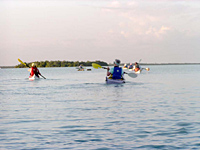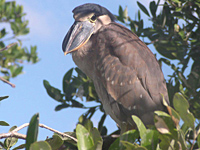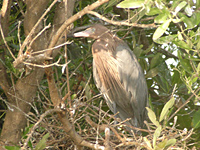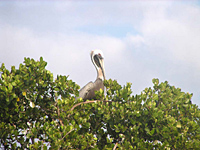 Wednesday we left to tour some Myan ruins (21) and snorkel in a cenote (fresh water limestone cave) (22). Thursday was snorkeling on the barrier reef (the second largest in the world), and more bird watching. Friday we had some skills training and another short paddle.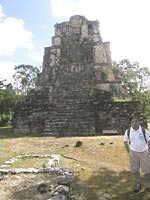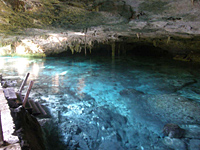 Some more things we had to put up with all week were moonrises (23), sunrises (24), and sunsets (25).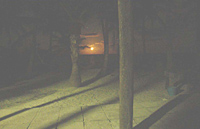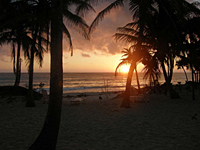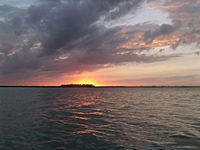 Saturday was departure day so we packed up early and left by van right after breakfast. At Playa Del Carmen, Carolyn continued to Cancun to catch her flight, while the rest of the crew stayed the night for a Sunday flight.
It was a little disappointing that we did not get to paddle on the ocean side, but all thing considered, it was a trip that will be long rememberd. Thanks to Ned and Doug for setting up the trip, and thanks to Living Adventures for providing the location.
For more information, check out http://locogringo.com/maps/tour/060-t.html for some aerial photos of the area. The first photo is the bridge we paddled to on the first day. Click << three times and you will see the reef we snorkeled on and at the top right you can see Bird Island. Living Adventures has pictures at http://www.livingadventure.com/facilities-yucatan.htm.