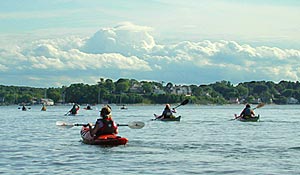 Weir River Estuary
June 13, 2009
By Pat Traynor
Paddlers: Pat, Jordan, Ron, Lori, Jack Z, audreyb, jdsm, Cheryle, Rain, Jessie, Debi, BillL, rkniffen, johnboy, Lora, Bev, Sheila (and son), Louise, jj, Karen, Skip, Eileen, Barb, Todd, and a couple of others that somehow didn't make my list.

26 Turkeys. A new WTP record!
This year, I decided to push recreational paddling in the group more than we've done before. I'd always felt that there are plenty of recreational paddlers out there interested in joining, but when they read our forums, they see a lot of high end paddling discussion - talking drysuits, vhf radios, and 30 mile trips into a headwind, uphill both ways.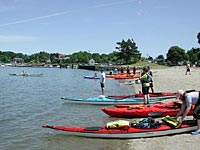 Turns out I was right. Twenty Six people went on our second recreational trip of the season. A few were long time WTP members, and I was happy to have the additional expertise in the group.
In order to accommodate paddlers of varying skill levels and stamina, I had one group launch from the beach at Hingham Harbor and another launch from Steamboat Wharf in Hull. I'd spoken with Scott at Nantasket Kayaks who couldn't have been more accommodating, and allowed us to use his dock for launching.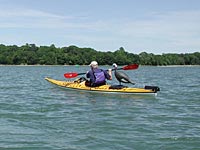 Given the number of people involved, the first group set off fairly close to the scheduled time. However, I'd underestimated the time it would take to get to Steamboat Wharf by a mere 100%. But once we got around World's End, the Steamboat people had kayaked out to the center and we were all assembled.
We spent a few minutes so that the first group could have a quick rest and everyone could get to know each other more. The Harbor Master stopped by, and after a little good-natured kidding about some of the kayakers breaking the posted speed limits, he asked about our plans and gave us a few safety tips, warning me specifically of the culvert at the turn-around point of our trip. A couple years ago, he had to pull a couple people out of it.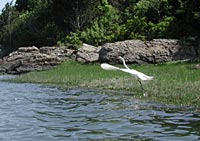 With Ron handling the sweeping chores, we set off like a flock of... oh, I dunno... something that's counted in flocks. With so many new paddlers, I honestly had no idea how we'd manage as a group. But everyone kept a good pace, and the trip to Rt 228 was uneventful. We had a little wildlife for entertainment, and the new Hull windmill is always an impressive sight.
It would have been nice if there were someplace to get out and stretch our legs near the end, but such wasn't the case, so we just sat in our boats and rested for a few minutes before starting back. Some of the seasoned paddlers such as Jordan, Laura and Ron offered paddling and safety tips to anyone interested.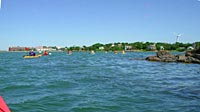 And we headed back. After a tearful goodbye near Steamboat Wharf (wait... do turkeys cry?), the twenty remaining paddlers rounded Worlds End and headed down the long stretch into Hingham Harbor. And into a steady breeze that didn't stop. No, nothing gale force, but pretty non-stop, and kicking up a little texture to make the trip somewhat challenging, especially for people not used to it.
This honestly wasn't what I'd had planned for a recreational trip. I positioned myself near the front. One group really cranked and made good time. But although I was paddling at a fairly steady rate, every time I looked back, the entire remaining group was right there. No one was lagging, no one needed help, and no one complained. I was plenty impressed.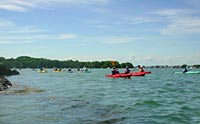 The few people on the beach at Hingham Harbor must have been a little surprised to see so many boats coming in at once. A lot of wobbly-legged people said goodbye and packed up. I desperately wanted to stay for PPR, but I had other plans and had to scurry.
A great trip with a LOT of great people. I hope to see them all again!