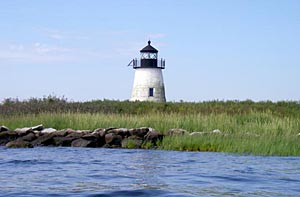 Buzzard's Bay
Ned's Pt. to Sippican Harbor & Bird I.
September 5, 2009
By Nelson Pidgeon
Photos by Nelson Pidgeon
Paddlers:
Nelson, Jordan, Diane M., Linda B.

I hadn't done a whole lot of paddling this season and the Labor Day forecast was looking pretty good, so when Jordan called and asked if I wanted to take advantage of the great weather I couldn't refuse. We played around with a couple of ideas and decided on a trip from Ned's Point in Mattapoisett heading north to Ram Island in Sippican Harbor (Marion) then out to Bird Island and back. Jordan and I both had afternoon plans so we needed to make it an early launch. Linda B. and Diane M. also decided to join us for the paddle.
We all arrived around 8:15 at Ned's Point and got the boats packed up and ready to go. I've paddled out of Ned's a couple of times and have to say it is one of my favorite places to launch, especially at high tide. Not only is the small sand beach a perfect place to launch it's also very picturesque with a vast green lawn for picnicking, a sea wall for hanging out and taking in the activities of Buzzard's Bay and a beautiful lighthouse that is not only great to look at but provides you with an easy landmark for when you return.
We headed out around Angelica Point then north towards Sippican Harbor. After a short while we could see what looked like a lighthouse to the northeast but we were still a little too far away to be completely certain. As we drew closer it became more evident that it was in fact a lighthouse and it appeared to be in the same vicinity as Bird Island. I have not paddled this stretch of the coast before and had never heard there was a lighthouse on Bird. I checked my chart and saw that Bird Island was listed to have a "tower" on it. I can only assume that the light was no longer operational and was re-designated as a tower so as not to confuse mariners. But Bird Island was a stop on our return trip to we continued on to Sippican.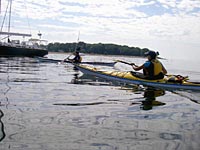 Sippican Harbor is another beautiful harbor with its bottom end filled with masts and motor boats. We headed into the harbor and before long could see what appeared to be Ram Island peeking out from behind the fortress of masts. Actually, we realized later, Ram was slightly to our left but blended in with Allen's Point. Further into the harbor Diane (or maybe it was Linda, I can't remember) noticed something in the water ahead of us and said, "Is that a sea turtle?" Jordan was a little closer and said it looked like it might be a skate. We paddled a little closer and saw a small sea turtle, about 12-15 inches in diameter, take off and dive into the depths. I think this was a first for us all.
With our sites set on the small grove of trees ahead of us and our jaws and minds involved in conversation, we passed right by Ram and arrived at our grove of trees on a very small rock ridden island. Checking the chart again we realized our mistake and continued on around the small island and then around Ram which now coincided with what I was looking at on the chart. But since we were just out on a leisurely paddle, it didn't really matter a whole lot.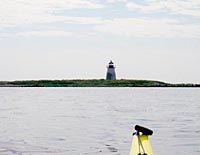 We continued back out of the harbor past the Planting Island peninsula and Butler Point towards Bird Island. The lighthouse was now as plain as day and about a mile from Butler Point. We paddled around the north side of the island and planned to stop here for lunch.
There wasn't much of a beach but plenty enough for our boats, a leg stretch and some lunch. Bird Island is home of nesting terns and you are not allowed to land here from April 15 until August 31st so I'm glad we decided to make this trip in September. It was getting a little warm so Diane and I both took advantage of a quick dip to cool down. The bottom was a little rocky but the water temp was perfect and I felt totally refreshed. I walked the short stretch of beach to take a couple of pictures and found a small welk shell to bring back as souvenir of my visit. We enjoyed our lunch while Jordan explained the engineering involved in replacing the stock seat in his Explorer with a custom seat.
With lunch behind us we were back in the boats and making a b-line back to Angelica Point. The sea was filled with glossy rolling swells, combine that with a light tail wind and we were easily doing five and a half mph on the return trip. As we neared Angelica Point, the rock jetty that was submerged on our way out, now presented a blockade for our return route. There were enough openings between the rocks so I continued on to take my chances. It looked like a clear shot most of the way through except for a short shallow area where I had to knuckle my way through. The others, seeing this paddled east around the obstruction.
It was now a straight shot back to the put in with the Ned's Point lighthouse guiding the way. We returned to find our once quiet put in now busy with bathers enjoying what could be their last hurrah of the summer season. I pulled my boat onto the beach then took advantage of another refreshing dip in the shallow water. We helped each other load up the boats then headed off to our next port of call.
This was a very enjoyable trip and highly recommended after August 31st. Total mileage was just over 14 miles. Thanks guys (and gals) for a great trip.