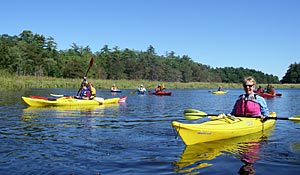 North River - Union St. to Hanover
September 19, 2009
By Pat Traynor

Photos: Norm Caseley
Paddlers: Pat, Norm, Coley, Tim, John, Cindy, Rain, Jeannie, Janice, Jessica, Astrid, Susan, Lora and Chris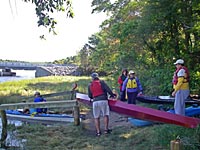 In a summer filled with crummy weather and canceled trips, we finally caught a break. As the weekend approached, it eventually became clear that there would be no rain, but then the threat of high winds started to become an issue. Some forecasts mentioned gusts of 40 mph, and I knew that even with the current, eight miles into a strong wind wasn't going to be a lot of fun, especially for folks with shorter boats that could be blown off course easily. I actually considered moving the launch further inland. Unfortunately, the next launch site that I know of is in Pembroke, and the resulting paddle would only be three miles, one way.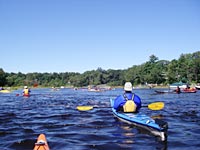 However, on Saturday morning, the winds were strong, but only about 12-20 mph, and more importantly, they were coming from the north. Since our route went primarily south, this strong wind would now be our friend.
I arrived an hour early and was surprised to see that nearly everyone had already arrived ahead of me. Until I discovered that this was a totally different group. Great... I have to find several people who I don't know, and now we're mixing in a pile of folks that I'm not supposed to know! But ultimately turkeys began to flock into the parking area, and we started shuttling cars to the Hanover launch.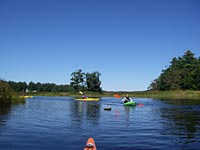 Since it's against the law for everything to go according to plan, my time estimates were off by a lot, and we had to abandon the last shuttling run. Even with that, we got off nearly half an hour late. But we were still well ahead of the tide, so it didn't really matter much.
And we were off! The current was really helping us. My GPS told me that I was doing 7 mph at a casual paddle. Once we made the first bend and headed south down that straightaway, the wind started helping, and the first leg of the trip was a breeze.
(Hahaha... I kill myself, sometimes.)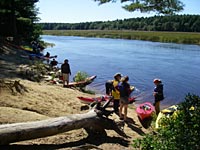 Before we'd launched, the breeze in the shade made things a little on the brisk side, so I was wearing my paddling jacket over a sweatshirt. Now out on open water in the bright sunshine and paddling, I realized I'd overdressed. I considered stopping for a wardrobe change, but I decided to hold out to Couch Beach. Several others were coming to the same conclusion.
We all stopped at Couch Beach for lunch. I originally figured we'd eat up in the main shady area where there are plenty of benches. But with the wind bearing down on us from the river, most of us elected to crowd into this one little sunny spot in the corner.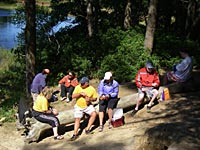 Cindy made a big bag of chocolate chip cookies, which she handed out to everyone. I didn't want to make a pig of myself, so I stopped after 17. [Administrative note: Upgrade Cindy's membership to double-super-platinum.]
Fully rested and with a fresh sugar high, we were back on the water. Over the next few miles, we started to get a bit spread out with various groups getting caught up in their conversations and didn't notice that they were nowhere near the bulk of the group. So a little short of the Washington Street Bridge, I managed to do a little herding (do you herd turkeys?) and got us all regrouped. I also took that opportunity to finally take my paddling jacket off and stow it. I was really starting to melt at that point.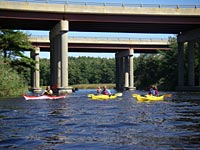 We forged on and made it to the Hanover launch quite a bit sooner than I'd anticipated. Once we got to the launch, it was like the S.E. Xway at 7:30am. The previous group had recently arrived, and another group was preparing to launch. It was interesting.
Overall, it was a great trip. I met some terrific folks and hope to see them on more trips!